Jeff is one of those people who just seem to do so much with their lives! Having left the Army (the Grenadier Guards) in 1987, Jeff moved to Falmouth, Cornwall and has since worked as a commercial Fisherman, Boat Builder, Self defence instructor, Harbour Master's Assistant and more recently has been instructing Sea Kayaking at the Falmouth Marine School having delivered yachts locally and as far a field as Norway, Jeff holds a great deal of respect for the Sea with all its moods and ways.
In 2003 Jeff paddled all 300 miles of the Cornish coast and a crossing to the Scillies and back by Kayak the previous year has shown him what a beautifull location Cornwall is for seakayaking. He's also done a little paddling around Japan. As you do. I bumped into Jeff on a "virtual skerry", on a "virtual trip".
~ ~ ~
MikeB - What do you think of UKSKGB?
Jeff Allen - I am impressed with the site, but since you have asked me to look at the site in a more critical way I would say that the images would maybe have more effect if they were larger. What was handy for me on expedition in Japan was that I created a page for weather links, when we found an internet café and I wanted to check on things I logged on to my own site and went to the weather page, swell/surf sites, satellite pics etc were all located on there and I didn't have to search thru a foreign key board or negotiate an unknown system. One weather site worth a mention is www.theyr.net it's an Icelandic site and is the one Stornaway Coast Guard uses for operations. So maybe a link for weather reports in the UK, there are some very good surf reports down here in Kernow (Cornwall). I've only looked at the seakayaking pages for now, I like the magazine style of the page, my business partner would prefer a site map orientated/menu driven site but that is more personal preference I feel.
MB - You've got around a bit over your paddling career - what do you think is happening to the sport at the moment?


JA - I have seen sea kayaking expand quickly in the last five years, certainly when I look at the number of kayaks around locally, and I notice that sea racing is becoming more popular, with more events being organized country wide. Most of my clients come to me without a club background (BCU) and it seems there are a lot of people that dislike the 'Club' environment so I tailor a lot of my instruction around what the customer wants, more people are buying direct into the sport of sea kayaking and don't want to go thru a series of stars or enter a short play boat before they can get on the sea.
MB - What inspires you Jeff? How did you get started in sea paddling?
JA - My Inspiration for sea kayaking came at an early age when my parents bought me an inflatable canoe, it split in half after a morning bashing around in the surf of North Devon, I nearly drowned but it was my first epic adventure ( still wary of big surf now) My parents wouldn't buy me another and it wasn't until some years later that I saw my first sea kayak, an early 'Nordkap' whilst serving in the army in Cyprus, I fell in love with the lines of it and I booked onto a military course and have been hooked ever since.
Chris Duff gave a lecture on his circumnavigation of New Zealand's South Island about 6 years ago at the ASSC in Anglesey and it was such an inspiration for me, he lit a fuse of desire to explore and travel by sea kayak which is still burning bright. I prefer an expedition where you're away long enough that the daily routine of expedition paddling becomes normal to you, the trouble is settling back into society again afterwards!
MB - ah yes! A week on the West of Scotland isn't quite the same, but that feeling of isolation, of being away from the daily grind - that's unique isn't it? Your trips take you to places lots of us can only dream about though - what are your special memories?
JA - The Japan trip had so many special days, the ones I remember most are in the North of Hokkaido, as we approached a place called the Shakatan Peninsular, closely followed by a typhoon only hours away, we approached a headland and Hadas looked behind her, a large bubbling mass of water about thirty feet away but heading straight towards her, she paddled like a banshee towards me and we rafted up, seconds later we had big bubbles of water all around us, looking down you could see hundreds of fish, Tuna I think being bubble netted with much larger predators, dolphins maybe firing through them at incredible speed, it was a beautiful day, an awesome coastline and this capped it off, we landed in Shakatan itself and the following day the Typhoon hit and laid waste to this small town.
Another fine day was paddling across the roof of Scotland with Harry Wheelan, from Strathy Point to Skirza Head, Harry was halfway thru a circumnavigation of Gt Britain and he had dislocated his shoulder the week before landing through massive surf at Strathy and was told he wouldn't be paddling for at least six weeks, 'Six days Jeff, I'll be away in six days' he told me in his broad Irish accent, he was true to his word and we had a cracking paddle.
Harry is one of the hard men of sea kayaking and is worth visiting if you're ever around London. A similar thing happened to us when just off Doun Rhey - Harry was engulfed in an air bubble, this time it may have been a whale farting or the nearby power station letting off gas itself, either way it scared the life out of us, and I think the best days paddling are when you're in fine company, beautiful coastline and nature pays you a visit.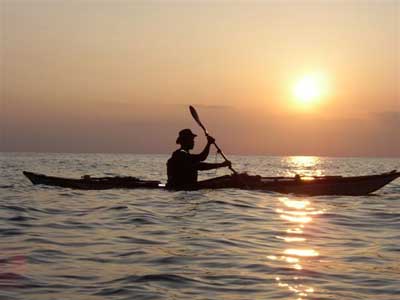 ---
Many thanks to Jeff for this "virtual" Campfire Conversation - Jeff does things most of us just dream about - but who knows where his inspiration could take us? Jeff is in business as SKALYBAX and offers "an expedition center specializing in sea kayak tuition and expedition training" as well as retailing boats and kit and will be giving a lecture at Rheged (near Penrith) on his trip to Japan. Called " Paddle Japan - On a Wing and a Prayer", it's on Saturday 1st April 2006 at 8.00pm. Details of this, and others in the series from Rheged are here
Mike Buckley - 2006