MikeB - How did you get started in the world of kayaking?
Sean Morley - I started kayaking at the age of ten with 1st St Austell Scouts. We were fortunate to have a very dynamic bunch of Scout Leaders, including Martin Compton who had a particular interest in kayak racing. There were lots of local regattas in those days and I progressed from an Ox general purpose kayak to an Espada K1 which we built ourselves. I trained for the National Scout Regatta at Holme Pierpoint, Nottingham in 1978 and did quite well so Kirton Kayaks gave me a Lazer K1 to race and they have supported me well ever since.
I trained on the River Fowey and often ventured out onto the open sea or played in the swell rolling into the river mouth. It gave me the boat skills that allowed me to relish rough water and the more technical races such as the Exe Descent, the Tay Marathon and the Sella Descent. I represented GB as a junior and was National Marathon Champion in K1 and K2 in 1983 and went to the Junior World Championships in Poland achieving sixth place in the final of the K4 1000m which was the best ever result by a British junior K4 crew.
I continued to specialise in crew boat paddling as a senior and represented GB in marathon I never really matched my performances as a junior.
I struggled to find the discipline to train specifically in racing kayaks and became more interested in playing on white water and in the surf. I developed a passion for surfing wave ski and reached the semi-finals of the European Championships in 1990. But I find the restriction of competition surfing took away the pleasure and freedom of surfing and I have not competed since.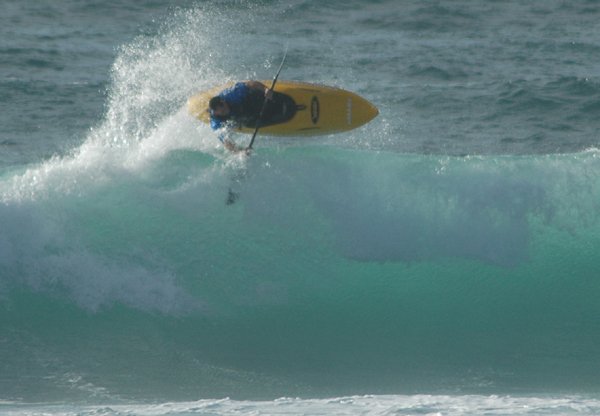 Sean in the surf
I began sea kayaking when I met Robin Feloy in 1996 and he convinced me to try the Inuk, a high performance sea kayak he had designed. Having paddled racing kayaks I was not convinced there was any such thing as a high performance sea kayak but I was totally impressed by the way the Inuk performed on the sea and I fell in love with the craft and with the concept of long distance sea kayaking.
In 1997 I kayaked 'Around the Sharp End' of the UK; the coastline of Devon and Cornwall and the Isles of Scilly in 9 days then the following year set a record for the fastest crossing of the St George's Channel of the Irish Sea with two friends; Ian Wilson and Jim Morrissey of 11hours 6minutes. In 1998 I circumnavigated the north of Scotland with Ian Wilson, paddling north from Fort William, traversing the 'Roof of Britain' and returning to Fort William via the Caledonian Canal, a 500mile journey in 13 days. Having built up my expedition experience I felt ready to take on a challenge I had dreamed about ever since I had first ventured out of the mouth of the river Fowey; the first solo circumnavigation of the UK and Ireland. I decided to make the journey even more difficult by trying to include in my circumnavigation every inhabited island and in September 2004 after six months and approximately 4,500miles I completed the challenge, the longest kayak journey ever undertaken in British waters.
MB - Where do you see the sport (sea kayaking) going? What would be the biggest change required to make the sport more attractive to more people?
SM - As a young canoeist I always thought of sea kayaking as rather boring, enjoyed by men with beards who liked to carry an array of home-made equipment that littered the decks of their kayaks which became immovable objects as soon as they touched land. Of course I have come to realise that many of those bearded men were pioneers in our sport, who undertook challenges so extreme they have earned their place in the history of expedition sea kayaking.
Whilst we should look to ways of making the sport more accessible and attractive we should not forget the debt we owe to the pioneers who have shown us what can be achieved in these remarkable craft.
The quality of the kit we use nowadays is so much better than what was available back in the 70's and 80's which makes the achievements of those pioneers even more amazing. Canoeing has always been a relatively cheap sport when compared to golf or cycling. Whilst I am very cost-conscious I have learnt the value of quality kit and we should perhaps try harder to encourage folk to part with their hard earned cash to buy lighter, composite kayaks. It's easy for me to say because I have had the support of manufacturers like Kirton Kayaks and now Valley Sea Kayaks to provide me with boats but the benefit of having a light boat which does not break your back each time you have to lift it off the roof of your car should not be underestimated.
Sea kayak racing has been slow to develop in the UK which is a shame. On the continent and in the States there are many sea kayaking festivals that include races and I hope this will spread to the UK in time. There is no more enjoyable workout than a good thrash on the sea and whilst it is also nice to take time to look at the scenery and chat with friends, there is a great deal of satisfaction to be gained from cracking out a ten mile sea paddle at a fast pace. We have some hugely talented paddlers in this country and I hope to encourage more to take up sea kayaking.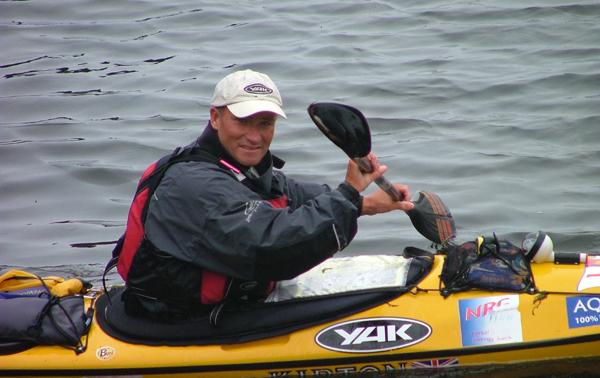 I would like to see a UK series of 'ocean races' open to sea kayaks and surf skis taking advantage of the exciting conditions that can be found around our coastline. I want people to consider paddling on the sea for exercise or training just as they would go for a paddle on a river or canal or go for a run or cycle. Of course there are safety considerations and everyone who ventures onto the sea should have some degree of safety awareness but there is no need to make every sea paddle a major expedition.
Kayak surfing is set to explode in the UK. Many whitewater paddlers are fed up with the restricted access to rivers and are looking to the surf as a way of expressing their new skills. I have recently 'converted' from wave ski to kayak surfing now that I have found a kayak that will perform the same moves. The new 'Rush' by Valley Sea Kayaks is loosely based on my old wave ski and it rips. Of course getting people out on the sea in whatever paddle craft is good and what will surfers do when it is flat? I can see more and more paddlers taking a serious look at sea kayaking as their 'next thing'.
I am also exploring the concept of extreme sea kayaking and rock-hopping in playboats and sea kayaks. Andy Middleton from Twr y Felin recently invited a few folk to a weekend on the Bitches to have a play in sea kayaks and the results can be seen on Justine Curgenven's 'This is the Sea 2' DVD. Justine's groundbreaking films are likely to be the most significant advance in the sport of sea kayaking in recent times.
MB - What's your inspiration for your expeditions?
SM - My inspiration for the few expeditions I have undertaken are those pioneers I have talked about earlier. British paddlers like Geoff Hunter, Nigel Foster, Derek Hutchinson, Frank Goodman, Nigel Dennis, Bill Taylor and the unrivalled achievements of New Zealander Paul Caffyn. Their stories, often beautifully written, captured my imagination. When I first read Bill Taylor's 'Commitment and Open Crossings', I knew that one day I would have to take up his challenge to circumnavigate the whole of the British Isles. Whilst I succeeded in going around all the inhabited islands of the UK and Ireland I failed to get out to the Channel Islands so the British Isles is still up for grabs!
MB - Balancing home / work / expedition paddling must be a challenge - how do you deal with that?
SM - Quite simply I have a wonderful wife (Linda), who is incredibly understanding and allows me to live my dreams. It helps that she is a good paddler in her own right and knew what she was taking on when she married me! My job as a police sergeant is very demanding but it does give me the opportunity to take unpaid leave and so far my bosses have been very supportive.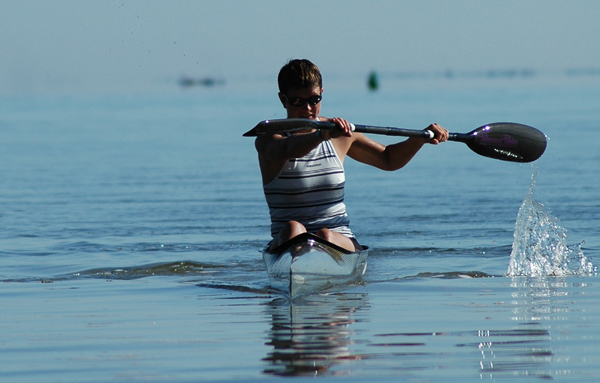 Linda - demonstrating she's "a good paddler in her own right"
Of course you get the usual comments such as "no wonder there is so much crime when all the policemen are off kayaking around the world" but I would like to think that I do a good job when I am at work and by giving me the opportunity to do these expeditions it keeps me motivated to work hard.
MB - You've done some significant trips - what was the best one / the scariest / funniest moment on one?
SM - Of course paddling solo is never going to be a bundle of laughs and I much prefer paddling with someone. Ian Wilson is the perfect paddling partner and if I was to put together a team for an expedition he would always be my first choice. In 1999 we kayaked around the north of Scotland and called it the 'Roof of Britain Kayak Expedition'. We set out from Fort William, went around the top and returned to Fort William via the Caledonian Canal from Inverness. It was a wonderful trip but we had some fairly hairy moments including one particular day when we left the shelter of a bothy near Cape Wrath and paddled out into what was probably a Force 9.
It was blowing offshore and we were sheltered by high cliffs until we crossed the Bay of Kervaig and got hit by a vortex of wind and spray as we paddled between Stac Clo Kervaig and Clo Mor, the highest sea cliffs on mainland Britain. It was very frightening or really exciting depending on your viewpoint but it was certainly the most extreme conditions I have ever experienced. Even in the most uncomfortable circumstances Ian was always able to crack a joke which you need to have been there to find funny but I have never laughed so much during a two week trip.
MB - Interesting wildlife?
SM - One of the main disadvantages of my style of expedition is that there is never enough time to explore and search for wildlife. That said during my solo trip around the UK and Ireland I spent two days at Griminish Point on North Uist waiting for the right weather conditions before heading out to St Kilda. With time on my hands I was able to sit still and when you do that more often than not the wildlife comes to you and I was privileged to see a family of sea otters playing in a rock pool.
I saw quite a few whale, dolphin and porpoise, just one group of basking shark off the south coast of Ireland but by far the most spectacular site are the huge sea bird colonies and most remarkable of all is St Kilda. The largest gannet colony in the Northern Hemisphere it is truly an incredible site with a backdrop of the highest sea cliffs in the British Isles. Not an easy place to get to but it is well worth the effort.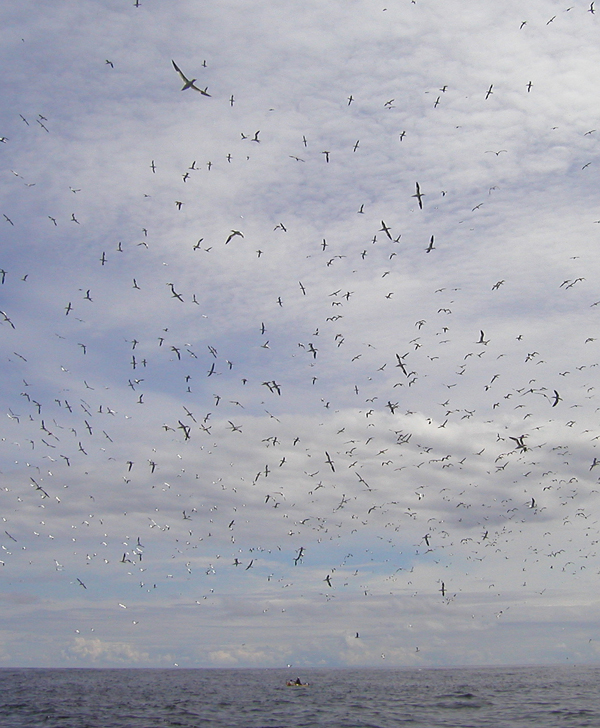 A few gannets - -
MB - Are you a culinary genius when you're paddling, or a fan of "army rations" and hard-tack garnished with boiled sea-gull?
SM - I am ashamed to say that my idea of expedition food is a boil in the bag meal, often eaten cold or warmed in my sleeping bag whilst I plan the next day's paddle. I would love to go on an expedition where I can take time to explore and learn bush craft and real campsite cooking. I shall do just that when my body no longer allows me to crank out big mileage.
Until then I shall continue to treat food as fuel and nothing more. I am sure that during my forthcoming expedition around Iceland I will have several weather-bound days so maybe I will get the chance to experiment a bit with nature's bounty but I am not sure I will have the stomach for catching my dinner. I like my food cellophane wrapped!
MB - Thanks Sean
Mike Buckley - 2006