---
1 » Plan ahead and prepare: In short, you need to know where you're going before you get there, understand if it's a fragile or protected area, and be prepared in case of an emergency. Leave No Trace encourages adventurers to plan their trips carefully "to avoid times of high use" (like holiday weekends) and to travel in small groups. This will lessen your impact on the land and help keep damage to a minimum. A party of 6 has less impact than a party of (say) 12. Obvious really.
Many parts of the UK have areas designated as SSSI's (Sites of Special Scientific Interest) and it's a good idea to know where they are if you're planning to camp in a specific area. Up on the Solway Coast there's one, as per the pic below - it also looks like a very nice area to pitch a tent on and just happens to be a spot where you'd be hoping to camp if you'd launched at one of the logical put-on's further down the coast.
Just across the water there's a fine little island where you'll be undisturbed.
Generally, sea kayakers don't have access problems but you should be aware that the UK does have some strange access laws in some places, notably England and Wales. I have no idea what the situation is in Ireland or elsewhere. Speak to the British Canoe Union or if your query is about access in Wales, try the Welsh Canoe Association. Scotland has it's own legal system, and the Scottish Canoe Association's view on Access is outlined here. In Scotland, the Land Reform (Scotland) Act 2003 grants some useful Rights & Responsibilities. Please exercise them appropriately and responsibly in line with the Scottish Outdoor Access Code.
If you fancy a night in a bothy, the Mountain Bothies Association website contains valuable information on bothy usage.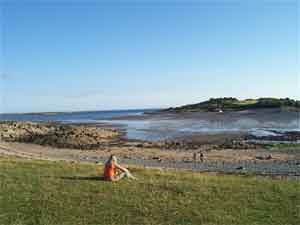 Choices! (Pic: Helen McKenna)
| | |
| --- | --- |
| | |
| Prev | Next |
| | | |
| --- | --- | --- |
| Mike Buckley - September, 2004. | | (Page last updated 21-Sep-2010 ) |
| | | |