Sennen to Scilly and back
Dillon Hughes - August 2005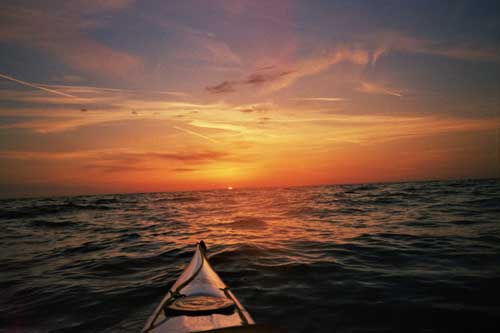 DATE(S) OF TRIP:8 to 10 August 2005

WHERE?: Sennen to Scilly and back

LAUNCH SPOTS:Launched from Sennen Harbour, landed on St Agnes, below the Turk's Head pub and later on the small beach below the campsite. Next day paddled to St Marys for some more R&R and then spend the night on the beach at Bar Point and returned to Sennen Harbour the next day.

DISTANCE/ TIME:24+ nautical miles - 5.5 hours on the way over but 8.33 on the way back against a 3 to 4 NEasterly.

LOCAL TIDES: Given the nav you get 2 hours of good tides, 2 hours of OK tides and 2 hours of against you. On the way over we didn't go far enough south and ended up ferry gliding across a strong northerly flow to get into the protection of the inner lagoon. On the way back we had a bearing to get us to Sennen but in the end cut and ran for close in and made our way northwards to Sennen.

HAZARDS/ PROBLEMS?:As always crossing the shipping lanes is interesting and finding the beach below the campsite on St Agnes was interesting in the dark and after too many beers.

ROUTE TAKEN:Track can be supplied for the return journey.

EVENTS/ OBSERVATIONS:Small pod of bottlenose dolphins on the way out and possibly a turtle.

OTHER NOTES:Full VHF coverage and very helpful staff in the St Mary's Harbour Master's office who helped recharge the VHF.

CONTRIBUTED BY:Dillon Hughes - also Steve Miles and Phil Butler
The team, Steve Miles, Phil Butler, Dillon Hughes


Phil Passing Longships Light

A welcome break amongst the Eastern Rocks

Bar Point on St Marys waiting for the sun to go down

Camp/Bivvi On St Agnes

Sunrise, mid crossing
Dillon Hughes - August 2005