Coping in the Wilderness - Low Impact Kayak Camping
Click here to download this entire article in PDF format.
"Leave No Trace" has emerged as the mantra for a generation of outdoor recreation fans, notably in the US & Canada where it can be argued that usage of the "wilderness areas" is perhaps higher than in UK, but that shouldn't mean that here in the UK we don't have a growing problem and this article aims to help with practical and realistic ideas and suggestions as to how we can all keep the wilderness and our remote spaces pristine and beautiful.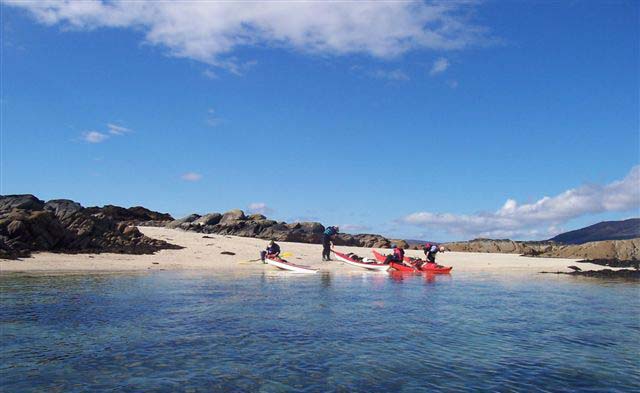 Landing on the Sandaigs, Sound of Sleat - a beautiful unspoiled landscape. (Pic: Helen McKenna)
Personally I like the concept of "Take nothing but photographs - leave nothing but thanks". Not a bad philosophy. But how does the principle of low-impact apply to us kayakers? After all, we don't leave any footprints on the ocean and there aren't that many of us anyway, so what's the problem? Well, a quick search around on the Community Forum here on UK Sea Kayak Guidebook (or via the links in the Almanac, Camping & Outdoors page) reveals that remote areas like the Garvellachs are sometimes found to be polluted with the excrement left from visiting parties, the land in the immediate vicinity of a popular open bothy on the West coast of Scotland is the same and we now have suggestions that the risk of being infected with giardia in the UK is a real possibility as a result.
For people brought up with the convenience of hot running water, toilets and living in our modern urban environment, there's a lot of stuff to come to terms with when taking to the outdoors! That campfire experience is great - but how does the landscape recover from that lovely fire we all enjoyed? And seeing as how we can't just pull the plug on our washing up water, how do we clean dishes and what happens to the dirty water afterwards? And then there's the unmentionable, the toilet! Just for starters, how do you have a crap and what do you do with the results afterwards?
No problem. We're all outdoors types, we know what to do. Well, on the Garvellachs there is a spring by the monastery. Its the only fresh water source in the immediate area. It forms a small pool and (as far as I know) is pure. Until someone used it as their washing basin and left it polluted with soap scum, the remains of a meal and generally churned up. Now was that just poor outdoor skills, bad manners or just not knowing what to do in the circumstances?
In truth there is relatively little information available to us - if we've had some involvement with Scouting or Guiding we might have a head start but there is little to no information or guidance from the "Associations" although the BMC does provide some general advice and the SCA gives some environmental guidelines, including useful details on the sensitive periods for wildlife. Elsewhere, there is little I can find from any of the clubs or other organisations involved in helping people take to the outdoors and certainly little in the way of published material in magazines. Maybe I've missed it, but none of the commercial organisations taking people into the wilderness seem to give any pre-trip advice but perhaps it gets dealt with once they're out there.
Where does that leave us? I guess "knowing what to do" must just come naturally. And it's ok because it'll all get washed away anyway. Well, it doesn't and there are enough piles of other peoples shite, fire rings, rusty cans and polluted springs in Scottish paddling areas to suggest that some support might be useful. Please don't be offended if I use words like shite - it's not nice reading about it but it's even more unpleasant finding it! We can call it po-po's, human excrement, number two's, our "doings", anything you like. But it's still shite.
Sure the grass grows back over fire rings - by next year - but why should I land on a beach and discover so many of the things that I can't even pitch a tent on the machair? And that pile of empty tins neatly left in a poly bag is not going to be picked up by the local cleansing operative. Not on an island anyway. Strange, but true, I've found it!
So if this helps people develop some strategies for coping with things they don't know how to cope with, that's cool. If you already know how to cope with such things, drop me a line with any constructive, practical, realistic suggestions for additions or improvements to this article. That said, the utopia of not using detergent, not having fires and carting your poop away in a dry bag is all well and good, but lets stick to what can actually be done.
I'm coming at this from the perspective of a long-term involvement with the outdoors, a love of wild places and a desire to help folk who might need support rather than as a raging environmentalist determined to hug every tree I come across. (Not that there's anything wrong in that). I've spent years camping and teaching camping techniques within the Scout Movement and try and use minimal impact techniques in my own outdoors activity.
Taking a lead from the US "Leave no Trace" site at http://www.lnt.org/main.html we can use their seven principles as a starting point:
7» Be Considerate of Other Visitors
(Click the headings above to go direct to each specific page, or click the arrow for the Next Page)

Next Page
Click here to download this entire article in PDF format.
| | | |
| --- | --- | --- |
| Mike Buckley - September, 2004. | | (Article last updated 23-Aug-2015 ) |
| | | |