---
3 » Dispose of waste properly: "Pack it in, pack it out," is the general rule of Leave No Trace when it comes to waste. Toilet paper, rubbish, and other waste really needs to come out with you. Packaging and other combustible rubbish can be burned if practical, or at the very least it must be taken away with you - beer cans don't burn! Orange peel and banana skins take a long time to decompose so something else worth taking out with you or burning.
Flatten cans, just to save space, and take them away - there was enough room in the boat to bring them and the contents, so there's plenty of room to take them away when they're empty. Remove excess packaging before you pack the boat and bring some poly bags as gash bags.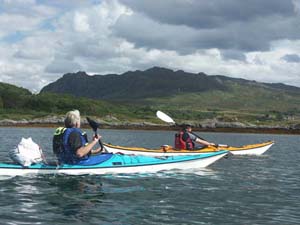 Gash bag being taken away. (Pic: Douglas Wilcox)
But lets be realistic here. Packing out your empty beer cans is one thing - you want me to carry out my crap as well? What about washing pots and dishes? How do I keep myself clean? If you want to get ill, neglect your camp hygiene - a nicely upset tummy will be the likely result.
OK - so the Americans are advocating the "crap carrying"! Cavers in UK do it already. What's the problem? Well, for one thing, here in UK we don't seem to have got a handle on that just yet and although there are all sorts of chemicals and potions available in the US to help neutralise our natural output and keep it from exploding as it decomposes in that sealed container, we don't seem to have them here. Maybe the idea of carting a few kilos of warm poop around in the back of a kayak is less than attractive, but think how the backpacking brigade feels and that's what they do these days in the US folks.
However, soil conditions in UK are perhaps better for encouraging the natural decomposition of human waste, given that we have a high rainfall and seldom suffer the arid conditions found in many parts of the world.
I would argue though that commercial parties or large groups really should try and find some way of reducing the impact they generate and also help make the entire experience more enjoyable for everyone. Maybe it would be possible to bring something like a "porta-potti"? Now there's no way that's going to go in the hatch of a Nordkapp but if the group had a big double like an Aleut II then it would probably fit in the centre hatch, or perhaps even the concept of using a big BDH bottle could be adopted and the contents emptied in deep water each day. How about a communal latrine-pit?
Commercial groups, and others operating professionally in the great outdoors do have a vital role to play in education. Do it right, and customers learn the correct ways. Do it "any old way" and the customer thinks it's ok "because that's how the pros do it, so it must be ok!". I've been on several commercial trips, one being billed as an "introductory training course" and never been given any guidance as to how to deal with these fundamental things! Just a thought.
In many part of North America, usage of the wild areas is so high you'll find "wilderness toilets" placed there by the authorities! Lets get this right - you expect to find a bathroom in the wilderness??? Fortunately, (or perhaps not) we have yet to get to this stage in UK and let's hope it stays that way.
So - you just have to have a crap - you're on some remote Scottish beach or staying in a bothy - what do you do? Before you get to that situation, get yourself a "Bog Bag" - I use a small dry bag to hold the basics to help make that fundamental human need as easy, comfortable and hygienic as I can. It also means that when my mates see me heading off carrying a purple dry bag, they don't embarrass me by asking "where are you going?" Well they do, but at least they know not to come looking for me!!
Now if you think I'm about to advocate aiming into a ziplock and using that little bag to store nasty things, I'm not. We're going digging!
Bog Bag:
Small dry bag or similar - just to contain everything


Small trowel - an ordinary garden one is fine, or a folding one if you like. This one is by Gelert.


Pack of "pocket tissues" or toilet paper


Pack of "wet-wipes", antiseptic wipes and/or small bottle of Lifesystems environmentally friendly, salt-water lathering liquid soap.


Small bottle of meths and a lighter.


Ziplock bag with a few ziplock bags in it if your strategy is to remove used paper, sanitary items etc.


A few disposable gloves - the sort provided at petrol stations or the disposable latex gloves sold in DIY stores for decorating. Optional really, but if they make it easier for you to deal with things like used paper - - - -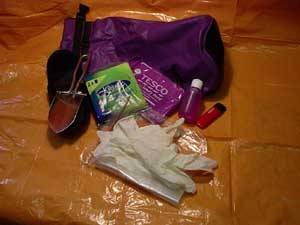 The basic essentials for a Bog Bag!
We also need to think about hand washing / personal hygiene, and while we're at it, washing pots and dishes as well.
| | |
| --- | --- |
| Using the Intertidal Zone option | |
| Using the Onshore option | |
| Personal Hygiene | |
| Washing-up | |
| | |
| --- | --- |
| | |
| Prev Page | Next Page |
| | | |
| --- | --- | --- |
| Mike Buckley - September, 2004. | | (Page updated 27-Sep-2010 ) |
| | | |