---
Low Impact Kayak Camping
4 » Leave what you find: Part of low-impact travel is the idea that you should leave the area in as natural a state as possible when you move on. "Leave rocks, plants, and other natural objects as you find them," the Leave No Trace folk advise. "Examine, but do not touch cultural or historic structures and artifacts." This also extends to the flora and fauna; don't transport local plants and animals out of the area and attempt to relocate them at home. Keep in mind that non-native and invasive species are already a serious problem in many parts of the country.
I guess taking some coral from the pristine beaches of Arisaig or Iona might not be such a crime. Unless we all do it, and others see us doing it and do so themselves, and before we know where we are, some bloke is loading a Transit!
Certainly removing artifacts from one of the many ruined churches or historic sites on the West coast of Scotland would be a bad idea. "Take nothing but photographs".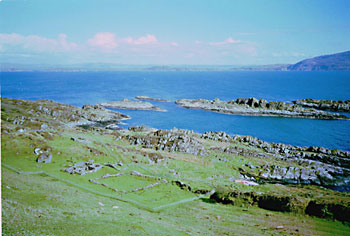 The monastery on Eileach an Naoimh, the Garvellachs. (Pic: Tony Page)
| | |
| --- | --- |
| | |
| Prev Page | Next Page |
| | | |
| --- | --- | --- |
| Mike Buckley - September, 2004. | | (Page updated 12-Jun-2006 ) |
| | | |