---
Low Impact Kayak Camping
6 » Respect wildlife: Paddlers are often keen observers of nature and know to give a wide berth when watching or photographing wildlife. But, don't forget that these creatures are very definitely wild, and you're visiting them on their turf. Feeding wildlife spoils their survival instincts, disrupts the order of nature, and causes all kinds of problems down the road. Start feeding bears in the States and they'll likely start bothering you.
I've yet to be mugged by a greedy seal on the West coast of Scotland, but I have heard of a sea otter in Canada who was seen climbing onto a passing kayak and raiding a dry bag secured on the rear deck before attempting to prise the hatch cover off in search of the goodies within. True! Even truer is the picture below, sent by John Willacy - it's endearing - but is it a good thing that wild creatures become so habituated to humans?
The seals and bird life we all love to see in UK have to breed at some stage - best to leave them undisturbed during those times. The Scottish Canoe Association offers some useful environmental guidelines including a note of the sensitive periods for birds and animals.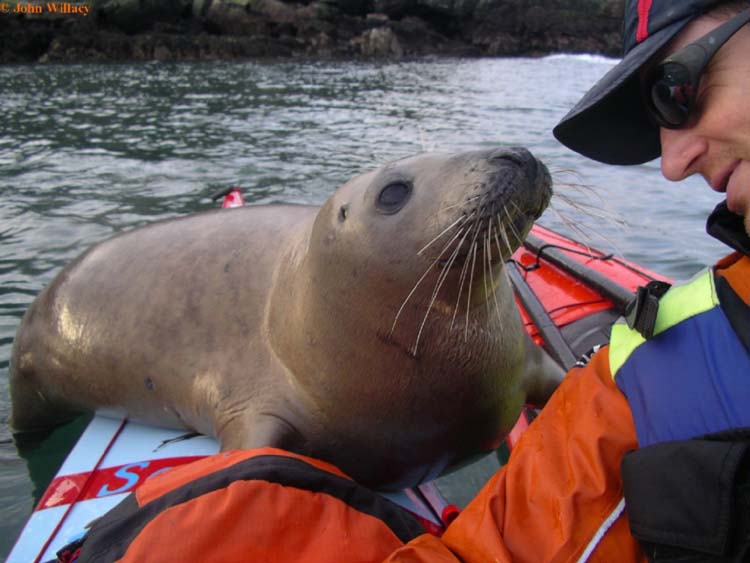 A very friendly seal. (Pic: © John Willacy)
| | |
| --- | --- |
| | |
| Prev Page | Next Page |
| | | |
| --- | --- | --- |
| Mike Buckley - September, 2004. | | (Page last updated 17-Feb-2009 ) |
| | | |