Low Impact Kayak Camping
7 » Be considerate of other visitors: This one just boils down to respect. Be courteous to the locals and use local shops, pubs and cafes if you can. Try and leave the area at least as pristine (if not better) than you found it. Sometimes that might mean carting out the junk others have left, or clearing their fire pits or sorting their mess. Such is life.
Leaving some wood on the beach for others is nice. But perhaps it's not a good idea to leave a wood pile for them, as that's not a natural part of the landscape. But if you're in a bothy, it's kind to leave at least as much wood as you found in the wood pile - it's even kinder to leave more. And it's really kind to leave a fire already laid in the hearth, and the bothy clean and tidy when you leave it.
Car parking (even in the remote parts of Scotland or Wales) can be a bit difficult sometimes - and can upset the locals when they find laybys obstructed or small local car-parks full of paddlers cars. Car sharing helps reduce the number of vehicles of course. Campsite owners will often let you leave vehicles if you've used their site as a starting point and I usually offer a "parking fee" - it's sometimes accepted, more usually not.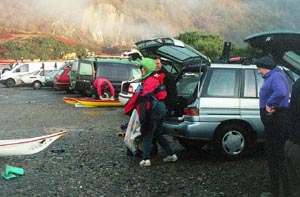 A lot of cars- all were however parked with consideration for local users and a local business.
---
Acknowledgements & Additional Resources
Thanks and acknowledgement to Paddling.net and Tim Sprinkle whose original article prompted this expanded version geared towards UK needs and attitudes.
Thanks to Douglas Wilcox, Tim Dawson, Helen McKenna, John Willacy, Jeremy Hastings, Tony Laidler and Andy Bien for additional photographs and/or comment and contributions.
Further reading on wilderness toilet techniques: Meyer, K (1994) - "How to Shit in the Woods" - Ten Speed Press (Berkeley, California). This has a wealth of practical suggestions in addition to those I've outlined above. Some may be right for you - others not. It's also a very funny book!
Wilcox, W - "Surviving Your First Camp - how did the environment survive your visit?" - Paddles Magazine, issue 110, November 2005. Click here for a .PDF of this article.
Discussions on the Community Forum of UkSeaKayakGuidebook.Co.Uk: Packing out Human Waste, (which contains additional links to other articles on disposing of human waste in the wilderness); see also these - FIRE and "Burn, baby, burn".
SeaPaddler.co.uk has an interesting table showing how long it takes for various materials to degrade.
Information page on giardia from New York State; or from the BBC "One Life/Health" here; or Broxtowe Borough Council here. (All accessed September 2004). This discussion is also worth a look at and contains some thoughts on water purification and other strategies to help avoid this rather unpleasant bug.
Scottish Canoe Association Environmental guidelines from the Scottish Canoe Association. (Accessed August 2015).
Scottish Outdoor Access Code - Statutory Access Rights and the Scottish Access Code came into effect 9 February 2005.
British Mountaineering Council Environment Policy (Accessed September 2007).
Mountain Bothies Association website contains valuable information on bothy usage.
Friends of the Earth comment on plastic and the environment.
The Green Loo - a foldable and transportable toilet system.
Poop Tube - a neat way of packing out human waste, made from pvc pipe.
---
Thanks for reading - I hope we never know the other has been where we are!
If you think this article can help others in some way, please feel free to link to it, copy all or parts of it for your own web-site or distribute it in whatever way you feel may help people in understanding how to cope in our wild spaces. I'd appreciate an acknowledgement if you do this but do please "brand" it to your own style if you want to. If you want the original HTML (or a text file) and the original pictures then please contact me. I'd also welcome practical, constructive ideas for improvements.
With the notable exception of the pics copyright of Andy Goldsworthy and John Willacy, and the ones from Douglas Wilcox and Helen McKenna, all other pictures are mine as is the bulk of the text. Feel free to use them. Please however note the acknowledgement to Paddling.net and Tim Sprinkle above.
Again, I'd encourage you to think about whether locations of camp sites etc should be included in trip reports or postings on web-forums and the like. Doing so may encourage excessive usage of the same areas and so exposes the land to potential damage. There are usually lots of camping spots and by spreading the load we allow time for nature to recover. On a similar note, people can help by keeping group sizes to a reasonable number.
On the subject of bothies, the MBA maintains a number of these (mainly in Scotland) and asks that locations not be publicised and states that "bothies are not available for groups of 6 or more because of overcrowding and the lack of facilities such as toilets". Bothies aren't "public property", in all cases they belong to the landowners who allow the MBA to maintain them for use by those of us who love to roam, and respect the great outdoors.
| | |
| --- | --- |
| | |
| Prev Page | Start |
Click here to download this entire article in PDF format.
| | | |
| --- | --- | --- |
| Mike Buckley - September, 2004. | | (Page last updated 23-Aug-2015 ) |
| | | |