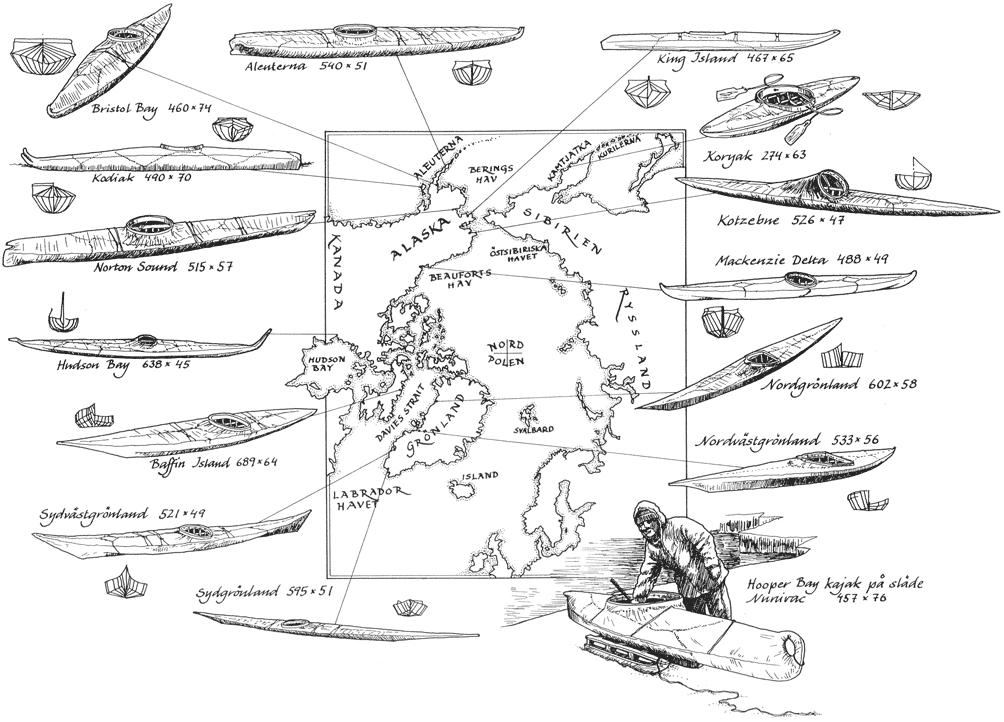 This fascinating diagram (found on Facebook - original source unknown, but may be from http://www.adventurerace.lv) illustrates the wide variety of kayak types used by indigenous peoples. Some, it could be argued, are prettier than others. Further details of lots of replicas of traditional kayaks are on traditionalkayaks.com
Blackford's craft was used as the plug for a fiberglass mould and eventually found its way to Frank Goodman of Valley Canoe Products who went into production in 1972 under the name Anas Acuta, a boat still made today. In doing so he introduced the company to the world of sea kayaking while producing the first commercially produced fiberglass seakayak.
In July 2015, Duncan Winning sent me a mail from Robert Todd in which he writes - "I have just realised that my first Nordakpp kayak (purchased May/June 1975) was in use on the West Coast of Scotland before the actual Nordkapp expedition took place (starting in July 1975). I paddled this Nordkapp on a Northern Coaching Panel trip to the Gulf of Corryvreckan (led by Lofty Wright) at the end of June 1975.
In early 1975 I read about the modifications required to the Anas Acuta (after their training trip round Skye in 1974). They would call the new kayak the 'Nordkapp'. Valley Canoe Product's catalogue didn't mention hatches and bulkheads for the Nordakpp but I phoned VCP (think it was Frank Goodman I spoke with) and asked for a price for a Nordkapp with Hatches and Bulkheads. I took delivery of an all red Nordkapp in early June 1975. (I already had a lightweight Anas Acuta, which might still be around in Largs ???.) I still have this early Nordkapp but it usually used now by my wife. It came with aluminium T-Bar hatches but these eventually had to be replaced. Other than that it is the original Nordkapp. I bought another Nordkapp (same specification, but with plactic hatches) in 1980 which I still use to this day!"
This picture of an early Anas Acuta beside a modern Wilderness System's Tempest clearly shows the low profile in comparison to the mass of the newer craft. One wonders which needs a rudder! Ido van der Meer's picture of his Anas Acuta illustrates the classic lines of these boats, as does this shot of one taken on Loch Teacuis in May 2013.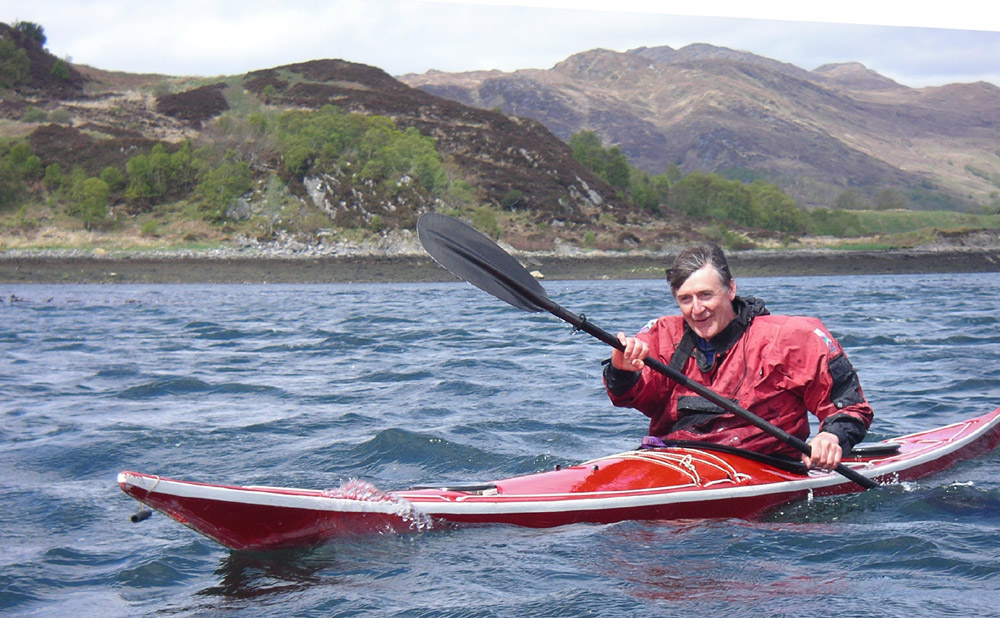 John on Loch Teacuis, May 2013, in an early Anas Acuta. It just looks "right"! Pic: Mike Buckley.
In September 2009, Duncan very kindly provided UKSKGB with the text of his history of the Ken Taylor boat, and also included the "family tree" and a copy of the line drawing of the original boat, together with a further historically important work showing how the Taylor boat influenced sea kayak design in the UK. There are also excellent images of the boat on Loch Lomond in the article.
Thanks to the Winston Churchill Memorial Trust, which provides some 100 traveling fellowships annually, Duncan was fortunate to be awarded one of only two fellowships in a canoeing-related field for 2004 and in July of 2004 he set off to Greenland on a four-week project titled "The Inuit Origins of Modern Recreational Sea Kayaks." Sea Kayaker magazine details that project.
Further reading on the Greenland Kayak, notably the differences between East and West Greenland types can be found in the article by Sandy Noyes, page 54. in the Summer 2011 issue of Masik. It also contains an article on the various other types of kayaks used by native peoples, itself interesting in that the rationale between hunting craft and boats designed for travel is clearly evident. This article by Jeff Fabiszewski also outlines the differences between the East and West Greenland types. The Summer 2013 issue of Masik contains a fascinating and in-depth article on "Deconstructing Greenland Kayaks" which describes the background to how these boats were built.
From the April/May 2008 issue of KASC, in an article on Giona Watkins (P.18) there is this interesting note - "The physical shape of the native kayak hunter east or west coast of Greenland is much the same while the design of the kayaks they used was dictated by conditions which are very different. The West Greenland kayak, exemplified by the Anas Acuta and Nordkapp designs, was used on open waters with high amplitude wave forms while the East Greenland kayak was used on water where the wave forms, damped by floating ice, had small amplitude. The West Greenland kayak is more sea kindly while the East Greenland kayak is swifter and easy to roll with or without a paddle".
In 1975 Colin Mortlock, a noted British mountaineer and exponent of outdoor education, proposed an expedition along the Arctic fiords of Norway to Nordkapp, the northern-most cape of Europe. Mortlock and his team had paddled the Anas Acuta kayaks around the Isle of Skye but believed that a new sort of boat would be needed, one that could take huge quantities of supplies without losing too much maneuverability and seaworthiness. Frank Goodman of Valley Canoe Products created the Nordkapp to fulfill that need, using the Anas as the inspiration.
The design principles adopted in this kayak i.e. moderately V'd keel, softer chines and the distinct Greenland side profile (although with increased freeboard to accommodate the increased loadings - the boat was designed to carry a 90 kg load) become so widespread in other kayaks that Valley have said that these characteristics became known worldwide as "The British Style".
In 2012 I received some pictures of one of the boats used on the 1975 Expedition.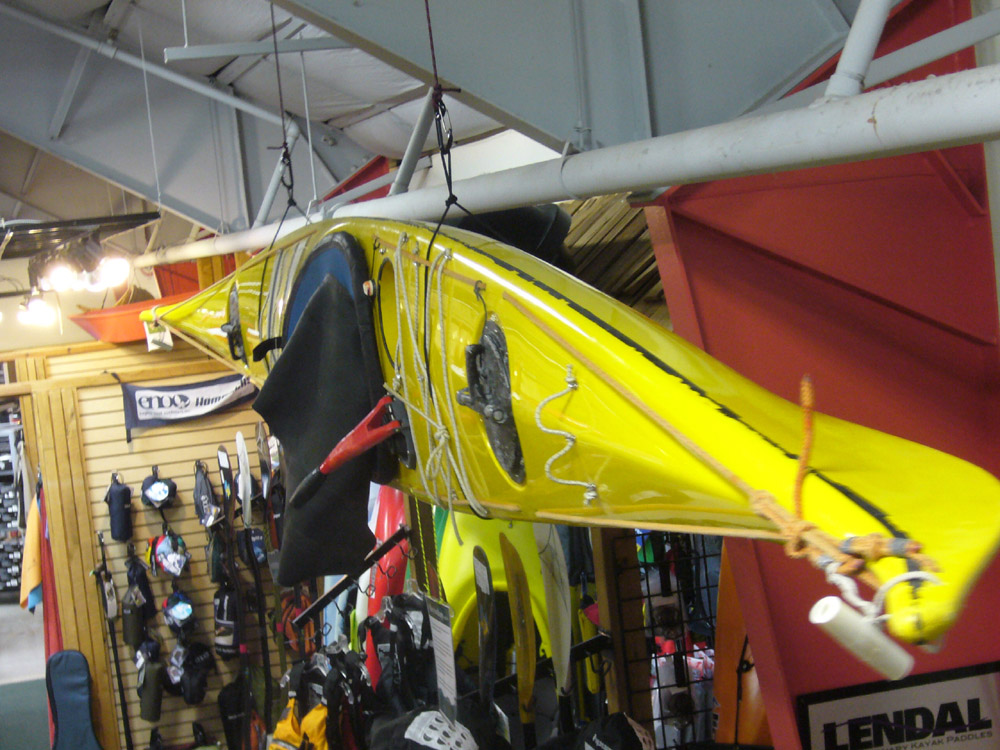 There are a number of other pictures of that boat, and the full picture set is here.
Thanks are due to Darren Bush of Rutabaga in Madison, Wisconsin for the pictures, and to Brian Day of Pyranha US Sales and Marketing for the initial lead.
Brian told me this in an email - "Back in the late 90's I worked there and we found the boat sitting on a rack over at Nigel Dennis' place. We arranged for it to be loaded into a container and shipped over to become part of the small canoe and kayak collection that we had at the shop".
Paul Caffyn's article "The Long Journey Home for a Greenland Kayak", the story of his 1999 trip to West Greenland, also details some interesting history of the boat. Paul has used Nordkapps for some significant trips, In 1978, he circumnavigated the South Island of New Zealand solo, a 2500 km (1,550-mile) journey that he completed in 75 days. In 1979, he circumnavigated the North Island, 2700 km (1,700 miles) in 86 days - and there are many others. In 2012 he very kindly sent me this fascinating article written by Graham Egarr in 1979, detailing the Evolution of the Nordkapp Kayak.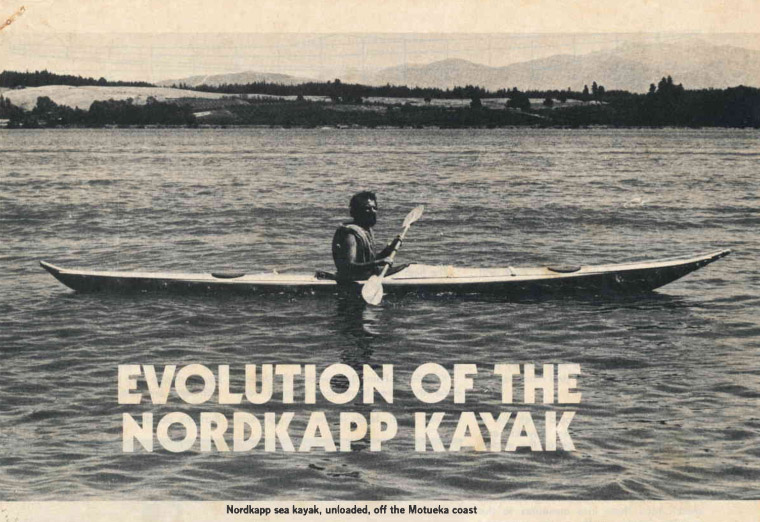 The National Maritime Museum in Cornwall noted that "the boats used on the Nordkapp expedition pioneered a number of features that, although commonplace now, were unique to the Nordkapp design including:
• The provision of watertight hatches on fore and aft decks, together with internal watertight compartments sealed from the cockpit area

• A hand operated bilge pump, installed on the rear deck, to allow the cockpit to be pumped dry in the event of a capsize

• Deck fittings moulded into the deck of the kayak, allowing deck lines and elastic fastenings to be neatly fitted to the boat

• A moderately veed keel and the fitting of a removable skeg to provide greater directional stability. After the Nordkapp expedition a skeg was permanently moulded to the hull, this being intended to solve the boat's tendancy to weathercock".
That worked, but produced a boat which had to be put right over on edge to get it to turn as it then tracked like a train. In really strong winds, it had a tendency to leecock and this is a consistent comment from many paddlers, of which more will be found later in the article. It's not known exactly when the HM hull was first produced, but p13 of the 1977 Cape Horn Expedition Report shows a line drawing of an HM hull.
I heard from Nigel Matthews in 2012 and he mentioned that "Team members of the Horn Expedition, myself, Frank Goodman, Barry Smith and Jim Hargreaves are still around and Frank celebrated his 80th birthday some time ago. Barry is living in Edinburgh and still very much out of doors, Jim is living in Canada and still paddling the last we heard. I got spoiled by paddling in warm water off Bermuda so my outdoors is spending winters in the Alps skiing."
Writing in UKSKGB in 2005, Jim Wallis provided this succinct summary of Nordkapp history - "The original Nordkapp was developed by Frank Goodman for the Nordkapp Expedition way back in 1975, making the basic design 30 years old this year, although it took inspiration from centuries of Inuit kayak development. The original boat proved seaworthy, fast and able to carry large amounts of kit, but weathercocked more than was comfortable. To solve this only problem a small fixed skeg was added to the after part of the hull. These boats were designated as HM's.
The result is a boat that tracks very well, and is still fast and can carry a lot, the only issue then being that it wasn't very maneuverable. The original Nordkapp then became HS. More recently further development was undertaken to increase the waterline breadth of the standard hull for more initial stability and use the now generally accepted lifting skeg to counter weathercocking when needed - this boat is called the Nordkapp Jubilee".
According to the Nordkapp page of their 1985 brochure, Valley offered 12 variants of the Nordkapp in those early days. (Thanks to Arnold Kuiter for the .pf). You could have a basic boat with no hatches and the original hull design (an SS - Standard deck / Standard hull) or a pair of hatches and either the standard or modified hulls (HS or HM - Hatches / Standard or Modified hull). If you wanted a "large, racing style cockpit with a sliding seat", that too could be yours with the designation L. There was even an R variant, that having a hull fitted with an inbuilt understern rudder.

Nordkapp LR - "Long cockpit with sliding (racing) seat - built in understern rudder"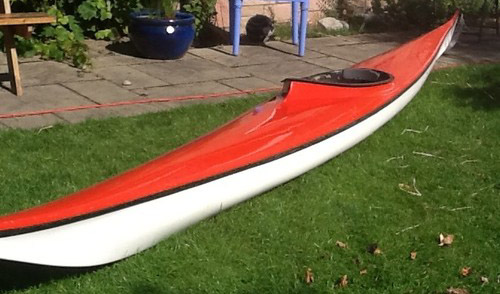 This one was advertised on eBay in Jan 2013 - described as an LS, we may surmise that it has a Long cockpit, Standard hull.
The raised cockpit coaming suggests it may originally have been the racing variant, which came with a sliding seat - this one
seems to have a fixed backrest, so may well also have a fixed seat.
Note the complete lack of decklines and hatches! It also looks like it doesn't have the understern rudder.
By 1988, the Valley brochure (now in colour) mentions two cockpit sizes - and notes that "Not every one of the twenty-seven combinations is available. But most are. Check out just what we can do; then you can have the boat of your choice, especially tailored to your requirements".
If you enjoy such things, there are many hours of happy banter to be had debating the actual designations of the letter H on an original Nordkapp and it had been widely accepted that the H actually referred to "Hull". I note that even Peter Orton who, together with Jason Buxton, bought Valley in about 2005 (can anyone confirm the date?) having previously been with P&H, has referred to the HS as "standard hull".
The very early HS's may not have been fitted with a drop down skeg, but it certainly made an appearance eventually. Although these were usually operated by a cord and bungee system in early boats from many manufacturers, Ido van der Meer from the Netherlands has what may be a very early example, which uses a rectangular rudder blade. He reports that the control was located behind the cockpit. A retractable skeg is mentioned as an option in the 1988 catalogue accessories list - illustrated in detail in this diagram, it's wire operated, and seems similar to the one on Ido's boat.
"Haris", writing in his excellent blog, Paddle'N'Hull in August 2011 provides an excellent and succinct summary of the details of his 1987 Nordkapp HS and compares it to a 2000 American model with "Jubilee" on the deck and "H2O" on the manufactures sticker. He also provides a summary of the distinctions between his older model and the modern "Classic".
He too notes that the skeg control on the earlier boat was originally located aft of the cockpit, a position he found somewhat difficult to use, resulting in a capsize! He also comments that the pump was interesting to use, not least because he once found himself pinned to the back deck as the handle snagged on his BA straps while attempting a lay-back roll.
As the 1985 catalogue shows, hatches were an option and the earliest boats usually had Henderson metal hatches secured by a cammed lever. Colin Cooper comments that the hatch cover seal was a very flimsy o-ring and the hatches themselves corroded badly in the salt water despite being painted with some form of black plastic paint. He eventually switched to neoprene VCP hatches which came with a metal tensioning band to help secure them, something no longer needed thanks to improvements in design and materials and VCP hatches are now made of some form of rubber.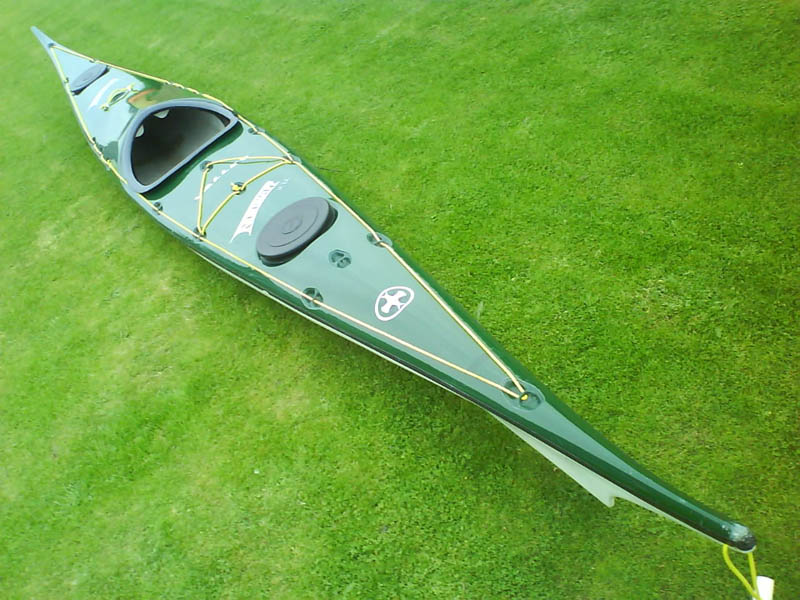 "Aeden's" superb Nordkapp HM - believed to be somewhere around 1985 or 1988 - although a discusion on Facebook in February 2015 raises the question as to when the moulded deck fittings clearly shown were replaced by the modern bolted in RDFs. Howard Jeffs commented in that discussion that the deck fittings were just GRP on the very early boats, however they were prone to break. Because of this, they then put a small aluminium bar inside the fitting when gelling up. Gordon Brown commented on the same post that the the HM which he bought in 1980 has the more modern bolt-in RDF.
Note the knee braces (fitted as standard) in the ocean cockpit, and the relatively raised rear deck typical of later models. Pic: "aeden"
A comment from Gordon Brown on Facebook in February 2015 notes that "the cammed lever hatches seem to have been in use until late 1970's, Henderson screw ones from 1980 to 1983, then VCP rubber as we still have". Developed in the 1980's and ground breaking in their own way, Valley hatches were a very significant improvement on the standards of the time and the concept has been followed by others like Kajak Sport. Even today some manufacturers still haven't caught up. There is a suggestion that Valley originally designed the hatch size to take a small Trangia - but this could just be urban myth as I suspect they were initially just using that which was readily available.
The Henderson screw on covers are reported as being prone to jamming owing to sand in the threads, or pressure differential in the hatch. The centre section can drop out and get lost so these aren't ideal for a kayak. That said, Chris Pendlebury mailed me in January 2014 and comments that "Valley themselves fitted Henderson plastic screw on hatches. I have a 1978 HS and a 1982 HM, both fitted with plastic Henderson screw ons when bought new from Valley. They have never given any trouble, though I do wonder about the state of the plastic after 30+ years."
Quite a few had the "Chimp" rear-deck mounted pump, these having been used on the Nordkapp expedition. Very difficult to use as the pumping action is offset to one side and therefore rather wobble inducing. It seems that the intention was for these to have been used when rafted, not on one's own. Many have been removed and the resultant hole converted to a day hatch. Often done by using a 15 cm dinghy buoyancy tank inspection hatch and glassing a new bulkhead in behind the seat, if the job has been well done, it can be an elegant solution. Kajak Sport make a variety of different size hatches, so these too could offer an alternative.
In an era when boat design was really still in its infancy, Valley were producing innovations such as recessed deck fittings. On the early boats these were formed with a bar moulded into the recess, as illustrated on "Aeden's" HM. Later boats used the now commonplace bolt-in recessed deck fitting.
A version from the Southern Hemisphere was on the market too until recently - built by Grahame Sisson of Sisson Kayaks, it is clearly a Nordkapp descendant and it's interesting to see how the designs have evolved over time and geographic distance with rudders clearly being an accepted part of paddling culture "down under" (and indeed in the US as well) whereas UK and European paddlers generally prefer non-ruddered boats. Graeme also built a variant known as the Arctic Raider which his website describes as being "a more stable, user friendly boat that offered our customers all of the advantages of the Nordkapp".
Paul Caffyn mailed me this in December 2012 - "Interesting thread here in NZ with the NK design. Grahame Sisson imported a two piece HS mould in 1977, the boats he built through to the early 90s were all HS hull models. In 1985, we built a 30 pound JapKapp, and in my desire to minimize cockpit volume, Grahame built a full seat/ bulkhead, which allowed a third compartment deck accessible from the cockpit. From then on, all Graham's boats had that middle / seat bulkhead.
Grahame was asked to make a boat for a bloke with big legs, and made a raised foredeck model - still with the HS hull. But in 1996, Grahame's Nelson factory burnt down, losing everything, bar for a trailer load of kayaks he was taking on a selling tour around the North Island.The only NK on the trailer was a high foredeck one - he built a mould off this, and it became the production boat in NZ until he retired earlier this year."
A look at the website in Jan 2013 finds this - "On Monday the 3rd October 2011 we shipped out the last boats - a Nucleus 60, Arctic Raider - and a Nordkapp". Rather fitting.
Paul Caffyn, Alaska 91 - Sisson's Nordkapp -

"June 1991, on the far northern coast of Alaska, when I was waiting for the summer breakup of the polar ice sheet, to continue my solo paddle around the coastline of Alaska from BC in Canada to Inuvik in the NW Territories. The black vertical streak, visible on the hull, aft of the cockpit, is the disgusting residue or mousse from the Exxon Valdez oil spill in Prince William Sound.

The boat is a NZ Grahame Sisson's built Nordkapp, with my overstern rudder design and Grahame's cunning middle or third bulkhead forming the seat". Pic: Paul Caffyn.

Paul Caffyn on floe, Ikertivaq - Sisson's Nordkapp - 2008, "East Greenland, during a long crossing of Ikertivaq. Shows the benefit of the NK's upswept bow, by being able to paddle at speed onto ice floes. Very handy for searching for leads through
the ice pack." Pic: Conrad Edwards.

Paul Caffyn, with a "tunnel berg" - Sisson's Nordkapp, paddling down the south-east coast of Greenland, 2008. Pic: Conrad Edwards

More pictures and details of this trip are to be found in this PDF of the August / September 2008 issue of KASK - "It has photos from a paddle
down the south-east coast of Greenland from Angmagssalik to Narsaq. A retrace of the Gino Watkin's open boat journey of late 1931.
The boats were two piece kevlar boats, a must for flying in to Kulusuk". Thanks to Paul for sending me this.
However - this comment from from EK Sydney, from Sydney, Aus, is quite telling - "I always think one of the supreme ironies of Australian & NZ paddling and our (slowly crumbling) culture of rudder-based sea kayak designs, is that it sprang from the original HM Nordkapp, which was a tricky proposition for paddlers like Paul Caffyn in following seas. Brian Towell has a classic line in an ad on the QSKC website, trying to sell his antique Nordkapp HM - "Paddles like an absolute bastard, It's tippy, slow, won't turn, and you can't get in or out of it - actually I quite like it and I wouldn't mind if it didn't sell."

When I was in Tassie in February I met Tony Gaiswinkler, who told the story outlined above of how Caffyn sent an SOS for a 'Tasmanian rudder', which Tony had a major hand in designing, after having a bugger of a time controlling his Nordkapp on the journey from Queenscliff to Brisbane. The HM had the 'skeg' which was just an extended keel line, as opposed to the modern retractable version.
They sent him one up which was fitted (not too sure if it was the original or a 'modification' of Tony's design), and the journey continued with much more ease for Caffyn with rudder fitted. This spawned several designs in Australia & NZ which were essentially Nordkapps with the stern sewn off & a rudder fitted, and our culture of boat design has evolved that way ever since. The rudder design also reportedly found it's way to Valley and became the C-Trim rudder - it seems to be a bit of sore point in Tassie!"
Sean Morley posted an article by Paul on his website - it makes interesting reading in the the HS/HM/Rudder debate, notably in the context of the distances covered after the boat was modified. An almost 30% improvement in mileage makes a convincing argument!
Cockpit sizes have varied as well, with the standard "Ocean Cockpit" being 20 x 15 ins and what has been described as a "Slalom type cockpit" measuring 27 or 28 x 15 ins. Designated by a "C" suffix, it was mentioned in a 1998 article on choosing a sea kayak by Atlantic Kayak Tours in the US, but as of 16 Dec 2013 the article can't be found. One is illustrated in this picture on Paddling.net where reference is made to it being an HMC designation - "The HMC on the foredeck indicates it has Hatches, Modified hull (hard stern), and slalom Cockpit".
Determining the age of older Nordkapps is actually quite hard - there is usually a "makers certificate" glassed into the cockpit and it had been suggested that the first two numbers represent the build date. However, it is more likely that the last two are. Certainly, "aeden's" boat has the serial number 7947/1/??/3 (the "??" being illegible) and turns out to probably be 1985 to 1988. This also was the case on the Aleut Sea II's I've had. But Valley may have used a variety of serial number systems over the years. If they have time, Valley have been known to help track down when a particular boat was built and are generally responsive to a phone call.
The "modern" Nordkapps.
Towards the end of the 1990's, Valley produced the Nordkapp Jubilee, to recognise 25 years of Nordkapp production. It is debatable whether there is really much in common between it and the original other than a shared name. The Jubilee is rather larger than the original version, has a cable operated skeg rather than the large fixed skeg of the old HM, a keyhole cockpit, an oval stern hatch, a round day hatch and a large round front hatch.
The moulded recess for a Silva 70 is positioned for'ard of the front hatch on these boats, and a range of options including keel strips, a choice of lay up (diolene, kevlar etc) and Compac 50 deck mounted pumps were offered as well as the Henderson foot pumps. You could also get a multi-part version of the boat to ease storage and transport.
In 2003, Dave Felton of Knoydart, who had been heavily involved with Valley, told me that in line with general product development, Valley decided to fit an oval cover to the front hatch on the Jubilee. As US dealers had existing stock with the round front hatch they decided to "re-name" the boat for the US market. It became Nordkapp H2O, which denotes Nordkapp 'hatch 2 x oval'. Valley introduced a vacuum infusion molding process at about the same time.
At the same time they fined down the nose, lowered the front of the cockpit area and reduced the rocker at the stern slightly. The stern shape appears to be slightly different as well. When the Jubilee was designed, it started with adding about 2 inches of rocker to just the stern section of the original. Then some material was added just behind the seat area, to help with handling and with stability. The oval hatch model (H2O in the US) had the nose changed slightly too (a little less bulbous than the Jubilee, but not quite as sleek as the original).
The older Nordkapp has the least rocker, then the oval hatch model (H2O in the US), and then the Jubilee. Overall the latest oval hatch version has about 1 inch less rocker in the stern than the Jubilee. The Jubilee has about 2 inches in the stern section.

2006 Nordkapp. Pic: Tiff
The UK market never used the H2O name, and it appears only to have been used in the US. This is probably due to the US dealers holding stock as mentioned earlier, whereas the UK market is generally "built to order". Tim Pickering compared the original "round front hatch" N/kapp Jubilee to the later "oval front hatch" version in a post in 2005 as follows - "I am paddling an H2O and I put it next to a Jubilee and it is fatter, that is to say it has more volume round the a*** and more of a u shape. We suspected this was for the American market to make the boat more forgiving". Tim lives in the Hebrides so clearly American nomenclature has worked it's way (erroneously) into UK paddling circles - probably thanks to internet forums.
It's important to appreciate that the US market received a slightly different product offering from the UK / rest of the world. The 2005 Valley / GRO brochure shows a boat called the Nordkapp Jubilee M which has the HM hull shape. The brochure also shows a subtly different boat called the Nordkapp H20. This was probably due to Stan Chladek, the then owner of Great River Outfitters in Detroit, Michigan, being a big fan of the HM Nordkapp.
Peter Orton, who had bought Valley by then, having been at P&H before that, commented on a post on Paddling.net that "because Stan was importing them (the HM Nordkapp) to the US and championing them this was the one many paddlers tried and subsequently got. Hence in the US the Nordkapps reputation for tracking like a train and needing to be cranked right over to turn. In reality Valley (in the rest of the world) has always sold far more Nordkapps with the standard hull (the old HS) and this is why the current version features this standard stern profile."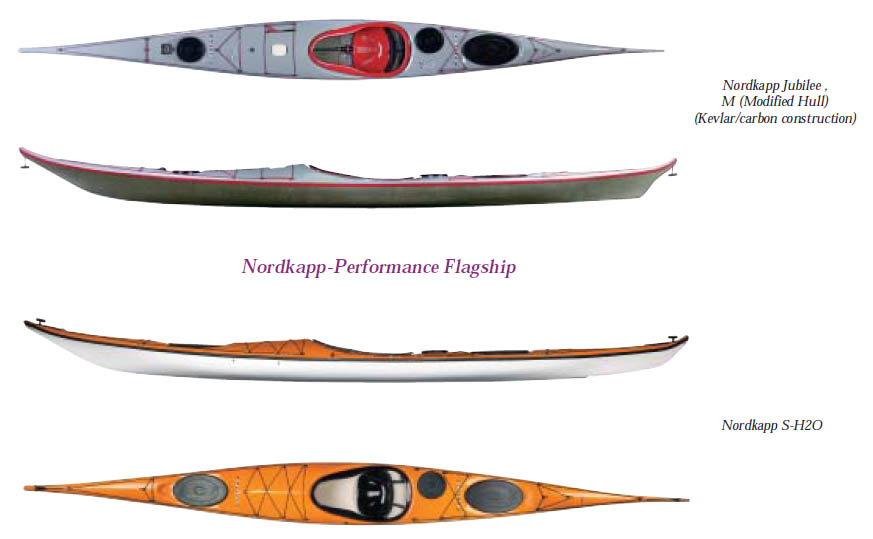 US spec "Nordkapp Jubilee M" with the HM hull shape, and the US "H20" - from the 2005 Valley / Great River Outfitters brochure
I recall looking at a Nordkapp with the new oval front hatch in Knoydart's shop in about 2004 and it certainly carried the familiar Nordkapp decal on the foredeck, with no mention of H2O on the boat. As far as the UK market was concerned, this was just a product update to the Nordkapp Jubilee. The Jubilee name seems to have been quietly dropped around about 2008 and certainly wasn't being used when this article was originally written. The H20 name also seems to have gone.
The LV version of the Nordkapp was developed in 2006 to provide a slightly smaller version, either for the smaller paddler, or as a more playful day boat. Douglas Wilcox reviewed it on his blog and was of the view that compared with the Nordkapp Jubilee, it was a completely new shape. The only dimension it shares with its namesake is overall width and it has much finer bow and stern sections.
Douglas Wilcox's daughter, Jennifer, in a Nordkapp LV on Loch Nevis in 2006. Pic: Douglas Wilcox
2006 also saw Valley introducing the Enthusiast (or roto-moulded plastic) version - writing on Paddling.net, Peter Orton commented "Originally the poly version was going to be sized as per the full size composite version. However the LV version has been such a hit we have decided to size the poly half way between the standard and LV versions. So length is 17'9" deck height ½" lower than the full size version width the same as both versions of the composite". When Valley launched their revised website in Jan 2010, this boat is referred to as the RM (although they also reference it as the PE).
It would be natural for Valley to have totally ceased production of the "original" Nordkapps when the Jublilee was launched, but in or about 2007 they started producing a slightly updated version of the "original" design which they call the "Classic". This has the same hull shape as the early Nordkapp, but uses the up to date deck layout of three hatches. Available either as HS or HM, it was built with an ocean cockpit. As of Jan 2013, when I viewed the Valley website during an update of this article, it seems to have been dropped from the range.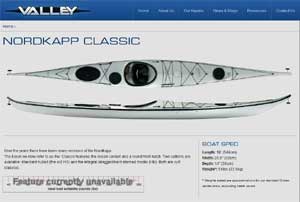 This picture from the 2010 Valley website shows a Nordkapp Classic.
There are also some examples of the "original" which will date from between the late '90's and the introduction of the Classic as Valley were known to build them to special order and a friend of mine in Glasgow certainly had one made for her.
News started to filter through on the forum in late 2014 of a development called the Nordkapp Forti, this intended to celebrate 40 years of the Nordkapp. Interestingly, in the information outlined in the press release (linked from the page above), reference is made to many of the points mentioned in this article in the context of how the boat has evolved over the years.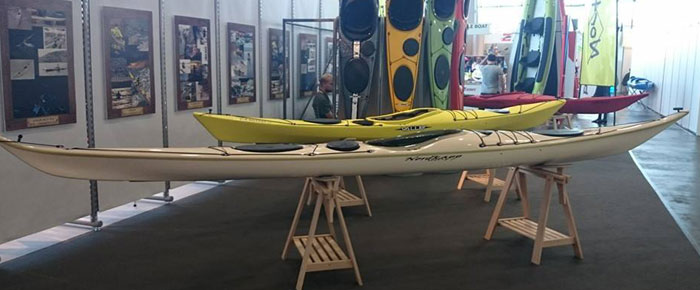 Taken from Valley's Facebook page, the 40th anniversary Valley Forti. More pictures are in the article. See this article from Adventure Kayak (July 2015) for more background on the Forti - including a picture of the team who undertook the Nordkapp Expedition.
An interesting insight into Valley's history and their factory setup, is outlined in this blog post from March, 2014.
---
Current models
As at January 2015 there are 4 variants all using the same name. 3 are composite, 1 is plastic. The composites are all offered in a variety of layups ranging from diolen to kevlar.

• Nordkapp is now used to designate the main design offering. There is also a LV version, and a rotomoulded (RM) version which sits in between the LV and the standard boat in terms of size. The Nordkapp Forti completes the mix, and has been designed to mirror the very first boats, but with modern deck layout and fittings.

They come with a keyhole cockpit, oval front and rear hatches and a round day hatch and are fitted with a retractable skeg. Options such as a rudder, keel strip, custom positioned front bulkhead, footpump and deck compass can be specified as well.

The composite boats are also available as two or three part versions.
---
Paddlers' comments
Comments quoted here (in italics) are taken either from Forum discussions, as referenced at the end of this article, or from private emails received when I was researching it.
All Nordkapps are renowned for being good boats for those with the ability to master them. They tend to have low primary stability and reasonably good secondary stability and that in turn makes them a little "tippy" in the opinion of those unused to them. It's a bit like riding a bike - fine when moving, but a bit wobbly when stationary! That said, a sea kayak that feels totally secure on flat water is almost certainly going to have you in the water when it's used in bumpy conditions so the apparent initial instability engendered by these designs is actually a good thing. The Nordkapp probably isn't a beginner's boat anyway.
These excellent diagrams on oneoceankayaks.com's superb article on Choosing a Sea Kayak provide
a clear illustration of why different hull designs offer different stability characteristics. Pics: oneoceankayaks.com
Some people find that adding some ballast is a good idea when day paddling in a lightly loaded boat - although the original Inuit craft probably weren't designed as load carriers (they were primarily hunting craft), the modern incarnations are, so that would certainly seem to be a good way of getting some weight into the boat, so providing a little extra stability. Some people use water carriers or bags full of sand or pebbles as a solution. A well secured BDH bottle full of lead also works, but whatever you use to provide ballast, make sure it can't move - airbags have been suggested as a way of doing this.
Nordkapps are recognized as being fast craft and capable of handling big seas with ease, as long as the paddler is also able to cope with big seas!
Ian Miller, by his own admission one of the "bearded paddler" brigade and a long term Nordkapp paddler active on the Scottish scene, provides some interesting insights into Nordkapps - it seems there were some significant design changes during the life of the original Nordkapps (pre the Jubilee version). He comments as follows: " I bought my first Nordkapp, an old HM with Henderson hatches - probably a 1976 model. At that time in our club no one paddled them because strangely the east coast was largely P&H territory and the west coast had the Valleys. According to most people you needed to be a bare chested seagull eater to handle one and I was delighted when I discovered I actually had a fast stable boat that even improved when the weather worsened.
I (now) have two Nordkapps, the old HM is very stable and more to the point predictable and also very comfortable with a legs straight out position and good knee grips. The 'newer' HS (mid to late '90's) is an unstable pig and is unpredictable. A factor which may be attributed to the fact that somewhere along the way Valley altered the mould significantly adding a couple of inches height to the deck and also added a bigger cockpit coaming with no obvious way to control the boat". (The picture of "Aeden's" HM shown earlier demonstrates this nicely - many people fitted foam knee braces to give more control in the boat and these used to be readily available from Knoydart).
Ian goes on to say "It is also significantly less comfortable with knees forced out to the side to give any form of control. I did recently consider a newer (early '90's) ocean cockpit HM but it had the raised rear deck which made entry to the cockpit a bit of a time consuming wriggle to say the least and certainly not something I would want in a launch into a big sea".
Such "improvements" aren't confined to the Nordkapp of course - Ian went on comment that the P&H Sirius had its freeboard increased early in its design life, which also resulted in a far less stable boat in his (and other's) opinions. The P&H Quest has also suffered by having a re-designed (plastic) seat fitted a few years into it's evolution, this also resulting in a noticeable loss of stability in some people's opinion. I understand the Quest can still be built to order with the original f/glass seat - some people have also successfully lowered the plastic seat and report a notable improvement.
Another contributor, Phil, writing about his original N/kapp, comments that "I also still consider it the best rough water boat I have ever paddled".
Paddler size is a factor with these boats, as with all kayaks. The first sea kayak I ever tried was an old original N/kapp HM - it was way too small for me and was clearly not designed for a 6'2" "larger" paddler as I could barely even get into it, and even seated felt I was sitting "on" rather than "in". Being used to modern keyhole cockpits on river boats I found the ocean cockpit a tad claustrophobic, but some people love them. The original ocean cockpit Nordkapps provided paddlers with a "straight legs" paddling position long before Rockpool re-invented the concept.
I found it incredibly twitchy but it was empty and it needs to be remembered that these sea kayaks are designed to carry a load, so paddling one empty is bound to feel a bit lively. It took forever to get it to turn and I have to admit that I was left with the impression that if this was sea kayaking, it wasn't for me. Fortunately, I discovered there were other boats which were both comfortable and fitted me better, but the Nordkapp certainly whetted my interest in becoming a sea paddler.
Some years later I bought a plastic P&H Cappella and then decided to bite the bullet and bought a brand new Nordkapp Jubilee which was enormous fun to paddle, and somewhat bigger and easier to get into! It felt more solid on the water than that early HM, and was very fast. Notably faster than the Capella. Sadly, eventually I had to admit I was really too big for it, so sold it on. The chap who bought it absolutely loved it. Two friends of mine who are somewhat slimmer in stature and about 6'0" both love their Jubilees.
I did find that the seat / backrest arrangement in that boat (a foam seat) gave very little lower back support and I often got terrible lower back pain when paddling it. Apparently the problem is a lack of support to the sacral area at the base of the spine. Some people have found Valley seats and backrests to be rather lacking in that aspect although the latest boats seem to have a much improved seat system.
The larger key-hole cockpits certainly made it easier to get into the things, but of course many people worried that the larger opening would be vulnerable to spraydeck implosion in a big sea - those stories of imploding spraydecks on large cockpits are probably best heard in the context of 1970's materials, typically nylon spray decks. Modern neoprene decks will be far less inclined to implode. The same is true of hatch covers, and modern manufacturing methods make it possible to produce a cover/rim combination which is far more effective than the early ones. VCP hatches, for example, no longer require the metal tensioning band used on the early ones.
Nick Crowhurst started a lengthy renovation of an HM in 2006 and later wrote about the first time he used his newly renovated boat as follows "Last Sunday morning in the Tamar estuary the Nordkapp was in her element. There was a good strong ebb knocking up against a SSE wind gusting to 25 knots. The short steep chop was up to 4 feet high, and ploughing into this was excellent. The Nordkapp just seems to get better as the seas get rougher. I was with a friend who was paddling a long fat poly sea kayak, and I needed to keep station with him, to keep an eye on him and give him moral support. However, he was traveling very slowly in the conditions.
The wind was from the port side at about 40 degrees off the bow. As I tried to travel at that slow speed, the bow of the HM blew downwind. I corrected this by edging, lengthening the paddle on the downwind side, and doing long sweep strokes to keep the bow up. There was a lee shore about 40 meters away, so I couldn't afford to drift. The Nordkapp responded by going far too fast. I ended up by doing a series of looping runs into and away from the wind, and it was difficult to keep close to my friend. If I'd had a lifting skeg I could have got rid of the lee helm, but the HM has the large fixed fin".
Writing on the forum in August 2010, Nick comments that he's modified the boat by cutting away part of the HM stern and adding a KariTek wire skeg - "This morning I took the HMM out for it's maiden voyage. I couldn't persuade the wind to blow more than about 10-15 knots, but the modifications are certainly a great improvement. I could paddle hard in a straight line, beam on to the wind, stop paddling, and trim the skeg so that the kayak traveled straight, neither weather nor lee-cocking. Bow rudders worked much better. I didn't need the radical edge previously required, which was just as well as I'd left my spraydeck at home........ Am I alone in such stupidity?

Of course, the bow rudder swings the bow mainly, so a better test is the stern rudder, trying to swing the modified stern across. These were easier than before the mods, but still not sufficiently effective in my book, even with edging. Neither were low brace turns, although they were better than before."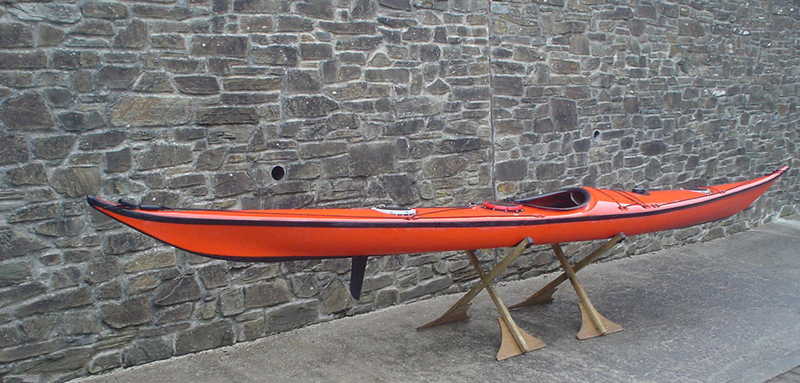 Nick removed the HM stern and fitted a KariTek skeg - the pic here shows the first stage, he subsequently removed a little more. The unaltered boat is shown later in the article.
This forum discussion contains the full story, the modifications mentioned above being detailed in page 7. Pic: Nick Crowhurst
Leecocking (or lee helm) isn't an especially desirable trait - what Nick is describing required him to edge away from the oncoming waves and wind, which is inherently unstable. A leecocking boat in an on-shore wind can be a bit of a handful. The big Aleut Sea II does it as well if the rudder is deployed and it must have steerage way to get the rudder to bite. I can say it's not especially nice having experienced it. At the time, I didn't understand enough about kayak dynamics to appreciate that the deployed rudder acted as a giant skeg, anchoring the stern and letting the bow blow downwind. Which is of course what happens with the inbuilt skeg on the HM's.
Sea Kayaker magazine ran an excellent illustrated article on strokes and techniques to aid turning, especially in wind, and contains good descriptions of leecocking and weathercocking. It also describes the use of skegs, and of using bow and stern rudders for upwind and downwind turns respectively.
Colin, another experienced Scottish paddler, also comments on the tendency for the HM to leecock and wrote "The people I paddle with all have old Nordkapps. My wife's old boat had a rudder, built early 1980's, as were the two other HM boats. This was a boat you loved or hated, a gent called Bill Reoch who was paddling expeds till he was 69 owned one, I remember having to push the stern round because it just was not for turning, in a big sea, off Toe Head. I think the boat I disliked the least was the one with the rudder, so I suppose that I am in the hate camp.
They are still fast boats, and if you are the only one in the group without one, you are always at the back. The others I paddle with swear by them, me, just at them".
Duncan Winning commented on the large fixed skeg on the HM's and told me that "Gordon Brown (of Skyak) cut his back, a bit at a time, 'till he got the hull balanced to suit him."
Of the later versions, Charles Scott writes about his new poly Nordkapp and says "seems just as fast as the "proper" Nordkapp and handles the same. I think it's very slightly more stable than the Jubilee, but this might be because I've been paddling it every Wednesday night and I'm comfortable with it. The level of finish is good, the bulkheads are neatly sealed and the seat is comfortable and well fitting. The footrests use a decent aluminium rail system, although the thigh grips aren't in a great place, but I get a comfortable knee grip on the inside of the coaming.
Decklines are good, if slightly mimimalistic, especially on the back deck where I have a couple more elastics on my Jubilee.
Do I have a gripe about it? Yes - but it's a small one. The cockpit is too long. Now I'm only 5' 7'' but there is fully 18" in front of the footrests from my feet to the front bulkhead. So if you are a 7' 1" paddler with the same body length as me then this is good, but one of my paddling partners is 6' 2" and he has 14" between the bulkhead and his feet. Maybe this is a fabrication necessity, but this is bad as it's not usable space, unless you fit some kind of false bulkhead or cargo net and you're still going to take on more water than you'd like in the event of a wet exit".
Interestingly, finding comments about Jubilees from paddlers on the Forum is actually quite difficult and one is left to wonder how many are actually out there, certainly in comparison to the old HS and HMs. The "Enthusiast" or RM boat is clearly well thought of.
Simon Willis, writing on his blog in 2007, reviewing the Nordkapp, says good things about the Nordkapps he and his wife Liz have - Gordon Brown warned him that "It will force you to do things the right way". "It's a boat which automatically punishes sloppy paddling. An on-board coach. With a stick!" But he also says that his wife Liz got it in one. "If you choose something else, you'd always wonder if you should have had a Nordkapp". It wouldn't work the other way around."
The LV Nordkapp is getting good press - wilcoj2 on the forum writes that "the Nordlow is very impressive when pushing through surf, winds and waves. It is also amazingly neutral in beam winds and seas. A problem I have had is that no one can keep up with me if we are pushing through seas and/or wind. One friend who I usually have to struggle to pace, noted that she cannot keep up with me when I'm in my 'kapp LV. As the Nordlow gains so much stability as it moves faster in conditions, I have to consciously slow to not out run fellow paddlers. It also runs downwind very very well."
From the States, Scott Lovrien comments on the first outing in his lovely new Nordkapp Classic that he "loved her from the first paddle stroke to the last. She is a tiny bit tender – but should feel more at home with her with about 10 hours in the seat. Noticed she likes to sit on one chine or the other too – much like a Nigel Foster Legend or Silhouette boat too. Must be those narrow ends and the generous V hull – but like I said – loved it all just the same". He also noted though that it came without a compass recess, despite the image in Valley's material showing it with one.
In July 2014, "gasserra" made this comment in the context of comparing the modern and "original" boats - "it's surprising how often it comes up, but it seems that relatively few have paddled both the older versions and the current version a lot. I've owned a 20 year old Nordkapp HM for going on 16 years and the newest version for about 2. Above waterline they look similar, but they handle and feel very differently. The hull shapes are quite different, including more rocker in the newer model - which seems to play a big role in its improved stability and maneuverability. And the lower coaming on the cockpit aft makes rolling easier. But the old one is still just faster. Same name, different boats."
At around the same time, M-J-B made this comment comparing the RM and the fiberglass LV boats - "The size is different, the fit is different and the handling is different, i.e. two totally different boats. The seat in the LV is quite easy to lower if the fit is too tight, but the thigh braces in the RM feel quite different from the LV regardless of their position."
The Nordkapp in its latest incarnation seems to be popular in Australia - writing on the Expedition Kayaks blog in July 2014, Rob Mercer noted "- - of the seven boats already on the beach all were Valley Nordkapps or Nordkapp LVs. On easier weeks some would have been in faster boats for a workout or more manoeuvrable boats to play but in the more challenging conditions of steep seas over rebounding swells these seven experienced paddlers had defaulted to their Nordkapps; a serious boat for serious conditions."
From the EK blog, a Nordkapp doing it's thing.
---
They are undoubtedly probably amongst the nicest looking kayaks on the market today and the original versions just look "right" as well. There must be hundreds of original Nordkapps afloat (or not - one has lain undisturbed on Easdale for years) - is that because they are superb craft? Or because they were one of the few decent sea kayaks available in the 1970's? Or because people bought a boat because of it's reputation? Or just because they were the nicest looking?
The original versions will still command premium prices on the second hand market. A friend of mine bought an HS as her first ever sea boat - she never really enjoyed paddling it though. She paid less than £100 and sold it for well over £500 a year or so later, which is astonishing. She replaced it with a poly Mk2 Cappella and reports that she is far happier in it than she ever was in the HS. She is a relatively tall person, so that could have a bearing of course.
Ian Miller provided an interesting thought when he told me that he remembered Jim Weir (another well known Scottish paddler) pointing out that Valley had been continually changing the (original) Nordkapp plug over the years and that some dimensions such as the rear deck height had risen considerably. He thinks this is why there are so many differing views on what is apparently the same boat and certainly my experience (and his) seems to confirm this. The comments from Valley regarding the development of the new Forti in late 2014 also confirm this.
Judging by the number of pictures of old Nordkapps in really excellent condition, it does seem that a lot of these boats didn't get that much use. One wonders how many people bought one because of its reputation, and then discovered they just didn't have the skills to handle it? Or, if it was an HM, they couldn't get it to turn?
Then again, some of them have clearly been put to very good use indeed - as evidenced by the Nordkapp and Cape Horn Expeditions and Paul Caffyn's journeys, not to mention varius others.
As I said at the start - you need to know which version you are talking about - a Nordkapp Jubilee just isn't the same as an "original" Nordkapp, and even those vary enormously. Since its inception the Jubilee has been modified significantly as well, and of course Valley validated this when designing the Forti in 2014. It's also relevant to know whether the boat is UK or US spec. There don't seem to have been any US spec boats sold in the UK or Europe - unless you know different - - -
For those people with the skills to paddle them well, and who are of the right size and build to fit in them, they are clearly regarded as being superb, fast and seaworthy craft. Liz Willis' comment sums them up: "If you choose something else, you'd always wonder if you should have had a Nordkapp". And on that note, Scott Lovrien, who is pictured later in this article in his Classic, wrote to me in Feb 2015 to say he's just ordered one of the first of the four Nordkapp Fortis currently making their way to the States. He comments "More than a few of my paddling club brethren have given me grief about going through so many (great) boats, but you know, in the end I always come back to the quote from your website from that gal who says something along the line of "..always wonder if you should have gotten a Nordkapp."

Anyway, I thought you might get a charge from the fact that despite owning about 25 different kayaks over the last 10 years (yeah, 2.5 per season) I will end up coming home to the Nordy. I can't wait to get out in her…hope the wife doesn't mind moving over so the Nordy can sleep on the bed…"

---
Pictures
Unless otherwise noted, these are UK or European specification boats. This Google search will find you several thousand images under "Nordkapp +kayak".
---
Nordkapp Timelines
This summary gives an overview of notable developments / changes to the Nordkapp and it's variants, as well as significant expeditions the boat has been used on. Please contact me if you can add to it.
Relevant UKSKGB Discussions
Various versions of the Nordkapp are mentioned in this discussion and also here. See this discussion for comparison between the Jubilee and a NDK Romany Explorer.
This discussion has a detailed write up by Jim Wallis of his impressions of paddling an HM, and some history of the boats, as well as some interesting comments by experienced N/kapp paddlers.
This discussion also has some Nordkapp history.
This discussion has pics and first impressions by Douglas Wilcox and others of the Nordkapp LV.
This discussion mentions the Nordkapp LV and includes pictures of one under sail.
This discussion includes a very detailed comparison of the Nordkapp LV and the Tiderace Excite.
This discussion references the RM / poly "Enthusiast" version, as does this one.
This discussion started by Nick Crowhurst is about renovating an original Nordkapp, but also has a wide range of discussion ranging from paddling technique to HM / Jubilee comparisons. Nick describes the joys of trying to turn an HM rather well.
This discussion provides some insights into how the Nordkapp is regarded today in comparison to other boats like SKUK and Tiderace designs.
This discussion on the Pintail includes some links to discussion elsewhere with background into Nordkapp development. Thanks to Jim Wilson / "wilsoj2" for some useful background from the US perspective.
This discussion references the US spec H20 HM and also the (original) HMC model.
This discussion considers the Jubillee, but also includes comparisons with the original design and provides some comment comparing the RM and LV varients as well.
This discussion references the Nordkapp Forti.
Other references
Valley Sea Kayaks website.
Technical comparison data can be found in the DKV Buyers Directory
From Sea Kayaker (US) magazine - tech specs for the Nordkapp LV and H2O
From Paddling.net - reviews of (US) Valley boats
The Paddling.net forums also have numerous references to Nordkapps - remember this is generally from the US perspective.
Although a bit out of date now (1998) this article on choosing a sea kayak by Altlantic Kayak Tours is worth a look and mentions the Nordkapp and other Valley boats.
From Adventure Kayak (US) - review of the Nordkapp RM.
From Simon Willis' blog - his impressions of Nordkapps.
Douglas Wilcox's review of the Nordkapp LV on his blog. He also references the RM version.
Greenland Kayaks - a .pdf with some history of Greenland Kayaks.
Sue Ellcome's Greenland Kayak is worth looking at to get an idea of how these craft were originally constructed.
How a fiberglass boat is built - interesting article from Kayarchy.co.uk on how these boats are built.
The Nordkapp page of the 1985 Valley brochure.
The 1988 Valley brochure (now in colour). Thanks to Arnold Kuiter for this and also the excerpt from the 1985 catalogue.
The 2005 Valley / GRO catalogue. Thanks to Jim Wilson / wilcoj2.
Duncan Winning kindly provided an article on the history of the Greenland kayak, incorporating the "family tree" of some 43 different craft. There is also a very detailed history of the Greenland Kayak's importance to UK sea kayaking entitled "It's Inuit int.it?". In July of 2004 Duncan went to Greenland on a four-week project titled "The Inuit Origins of Modern Recreational Sea Kayaks".
National Maritime Museum in Cornwall.
Glasgow Museums Resource Centre.
Thanks are due to Darren Bush of Rutabaga in Madison, Wisconsin for the pictures of the 1975 Expedition boat, and to Brian Day of Pyranha US Sales and Marketing for the lead.
PDF of the August / September 2008 issue of KASK - contains details of Paul Caffyn's 2008 trip in a Sisson Kayaks Nordkapp.
Further reading on the Greenland Kayak, notably the differences between East and West Greenland types can be found in the article by Sandy Noyes, page 54. in the Summer 2011 issue of Masik. It also contains an article on the various other types of kayaks used by native peoples, itself interesting in that the rationale between hunting craft and boats designed for travel is clearly evident. The Summer 2013 issue of Masik contains a fascinating and in-depth article on "Deconstructing Greenland Kayaks" which describes the background to how these boats were built.
From the Australian Expedition Kayaks blog, Rob Mercer's comments on his experience of paddling a Nordkapp over the last five years.
There are some wonderful images of a replica of the Taylor boat here.
Bibliography / Web references
BCU (1991) - Canoeing Handbook - The Tickle Group
Brown, G (2007) - Sea Kayak - Pesda Press
Caffyn, Paul (1999) - The Long Journey Home for a Greenland Kayak - from KASC website, accessed 13 May 2011
"Haris" - Vintage Valley Nordkapp HS Review - Paddle'N'Hull blog, accessed 24 May 2012
Hutchinson, D (1997) - The Complete Book of Sea Kayaking - A&C Black Ltd
Ridgeway, R (1993) - Something Amazing - Hodder & Stoughton
Taylor, K (2011) - The Hunting Trip To Umiamako - Kayakgreenland 1959 blog, accessed 8 November 2011
Taylor, K (2013) - Chapter Twelve: Re-encounters with the Kayak - Kayakgreenland 1959 blog, accessed 8 March 2016
Expedition Reports
The 1975 Nordkapp Expedition Report - thanks to Clive Merrifield for sending me scans of a copy of the report found in a pile of second hand books - also thanks to Nigel Matthews, Paul Caffyn and Allan Cadenhead who also very kindly offered to get copies to me. Thanks to Paul Caffyn for the KASK magazine from 1999 which contains a summary overview of the Expedition.
The 1977 Cape Horn Expedition Report - thanks to Nigel Matthews who sent me a pristine hard-copy of the trip report, and to Jim Wallis for fettling the PDF into proper page order for me.
I'd been looking for these reports ever since I originally wrote the article, so when they eventually surfaced in late 2012 it was great to be able to put them up on-line for what might well have been the first time!
In March 2016, these documents were passed into the care of Glasgow Museums Resource Centre to be held with the other material related to the Ken Taylor /Illorsuit (Igdlorssuit) kayak they have in their reserve collection. My thanks to Patricia Allan, Curator of World Cultures at Glasgow Museums for her interest in this material.
---
Thanks to all those named in the article for input, comment, advice and pictures. The article has been "peer reviewed". Valley were naturally asked to review, input and comment but didn't respond. They have however been known to be very helpful in responding to telephone enquiry regarding specific queries.
As new or additional material and information comes to light, the article is updated to reflect that. While it would of course be nice to be able to maintain a log of such changes, or retain previous versions of the article, the practical reality is that doesn't happen. Some of the content can be, and has been, validated - some of it however is the result of people's recollections, so things like dates when changes or notable developments took place are inevitably less precise than they would ideally be.
You are welcome to link to or reference this article, or indeed use the various attachments and links for non-commerical purposes. I'd welcome an acknowledgment of the source and you should also think about copyright and such like with other people's work. Again, I'm sure an acknowledgement would be appreciated.
Can you add more to this article? Please contact me if you have any useful information, more background (especially relevant dates and Velley's serial numbering systems) or interesting pictures. Please also tell me if you spot any errors, inaccuracies or broken links.
© Mike Buckley - article originally written March 2008 - last updated 08-Mar-2016 .